Free overnight camp for kids ages 9-11
July 8-12 | 15-19 | 22-26
at Camp Brookside Environmental Education Center
Registration is now closed. Thank you!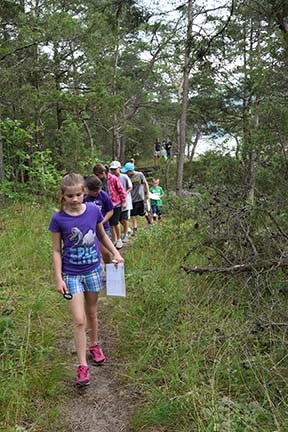 Friends of New River Gorge National River is proud to support New River Gorge National River in hosting three outdoor summer camps this July, as part of our mission to continue to provide opportunities for the community to engage in our national parks. This project was made possible by a grant from the National Park Foundation through generous support of partners like Disney, the lead sponsor of Open Outdoors for Kids, and donors across the country.
The three residential camps run from Sunday afternoon through Thursday evening at the park's Camp Brookside Environmental Education Center in Brooks, WV. 
During the four-day camp, campers will spend time outdoors learning, playing and exploring the forests and river to discover and study the plants and animals of the park. Kids will experience the outdoor environment through activities like fishing, hiking, campfires, and water activities. They will engage in hands-on activities that will immerse them in the out-of-doors and help them develop a strong sense of environmental stewardship. They will learn the importance of protecting the environment around them while participating in service learning activities. 
Campers will stay and eat in the newly renovated historic cabins and dining hall at Camp Brookside. Opened in July of 1947, Camp Brookside provided a residential summer camp for the children of families who worked at the Union Carbide plant at Alloy, WV. Boys and girls from ages 5 to 15 attended two week camp sessions on the New River. Today the camp has been refurbished and is operated by the National Park Service as Camp Brookside Environmental Education Center to once again allow boys and girls to enjoy a camping experience. Learn more about the camp's history.